EXPIRED
Three (3) ways to Register for the American Association for the Treatment of Opioid Dependence, Inc (AATOD) 2015 Conference: 
Online registration

EXPIRED

Fax to 856-423-3420 by completing the registration form (PDF)
(If faxing your registration, DO NOT mail the original form; doing so may result in duplicate charges to your credit card.)
 Mail the registration form (PDF): 
AATOD 2015 Conference Registration
c/o Talley Management Group, Inc.
19 Mantua Road
Mt. Royal, NJ 08061

____________________ 
Registration Details:
You may register two or more from an Agency through the AATOD website.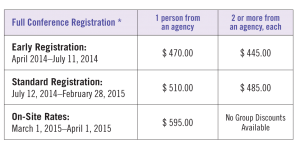 *Includes: Admission to Pre-Conference Sessions (excluding Clinicians Course), Welcome Reception, all Plenary Sessions, Workshops, daily continental breakfast and Awards Banquet.
 ____________________
Registration Restrictions:
Splitting of conference fees is not permitted. Only one discount per conference participant is allowed including the presenter's discount
Group Discounts do not apply for the following categories:
Single Day Registration
(Does NOT include Welcome Reception or Awards Banquet)……………..$260.00
Clinicians Course………………………………………………………………………………..$235.00
Additional Awards Banquet Tickets………………………………………………………..$85.00
Additional Welcome Reception Tickets……………………………………………………$40.00